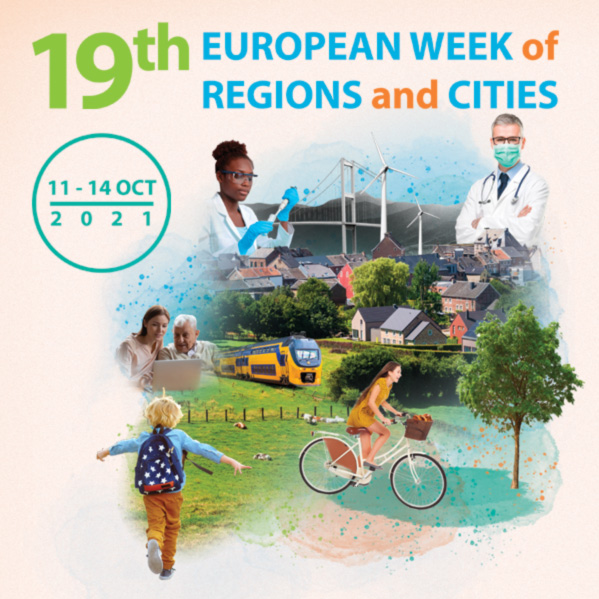 ---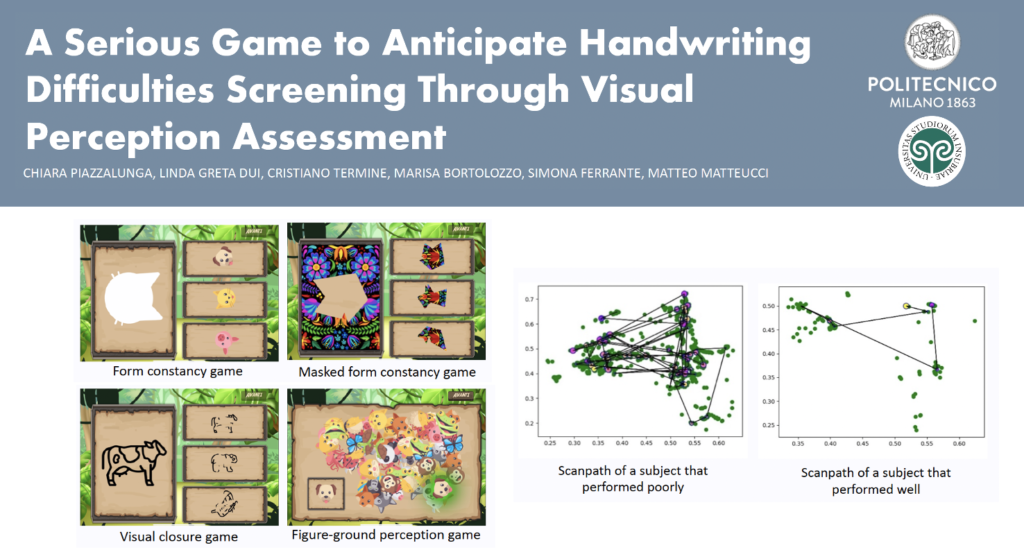 Best Poster Award
"A serious game to anticipate handwriting difficulties screening through visual perception assessment" won the best poster award at the 15th European Conference on Game Based Learning.
The full poster is available at ECGBL page.
---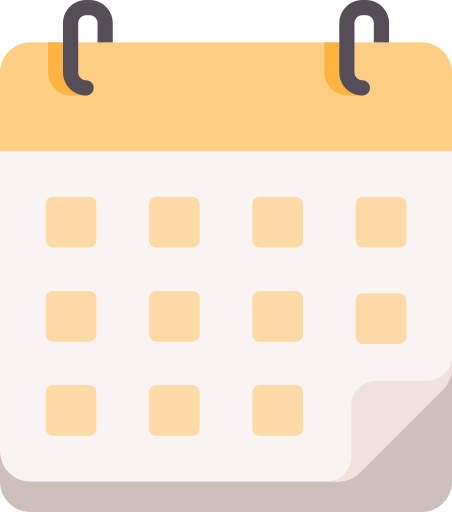 Save the date
The next Project Steering Committee will take place on September 13th, blended.
---

ESSENCE on Platinum
Learn more about ESSENCE!
From July 19th, you can read about the project on Platinum "Aziende & Protagonisti" both online at https://platinum-online.com/ and at the newsstand with "Il Sole 24 Ore" newspaper.
English version is coming soon.
---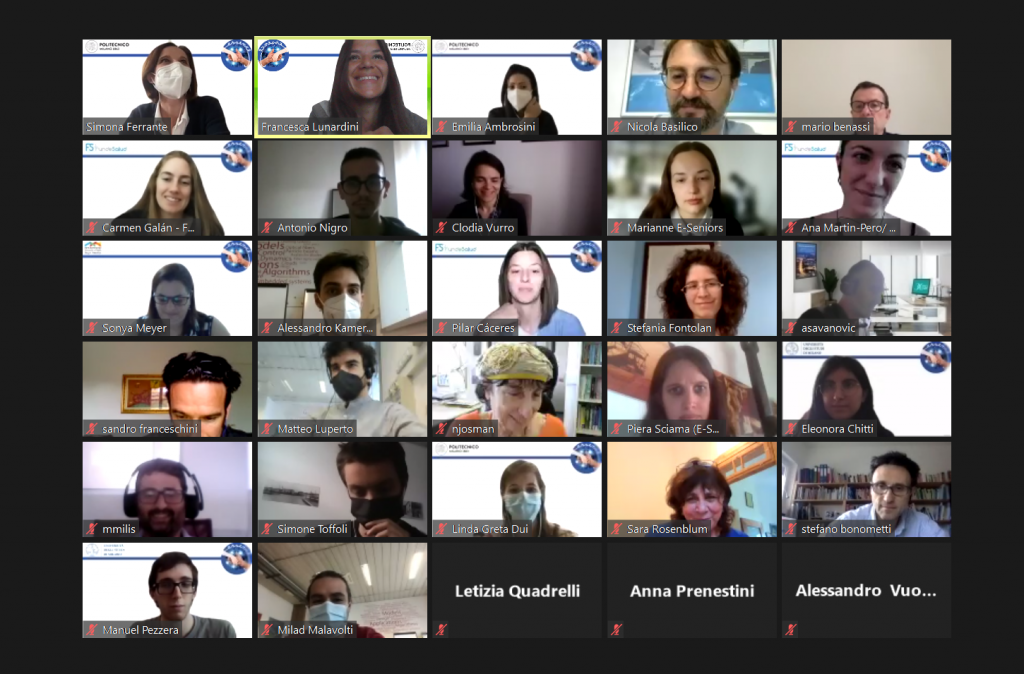 May 2021 PSC meeting
We just had our PSC meeting on the 18th and 19th of May
We are moving forward on designing and integrating different functionalities to support seniors and children during COVID-19 times.
Keep in touch for more details!
---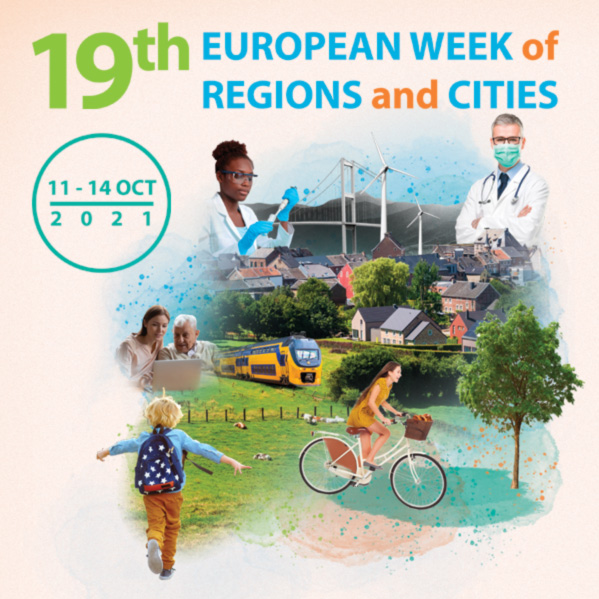 European Week of Regions and Cities 2021
Proud and excited to officially announce that we are a partner of the 19th European Week of Regions and Cities 2021! Stay tuned for news about our event!
---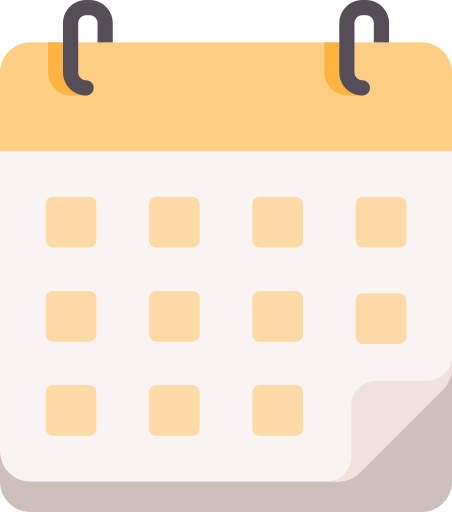 Save the date
The next Project Steering Committee will take place on May 18th and 19th, blended, together with the first blended integration meeting.
---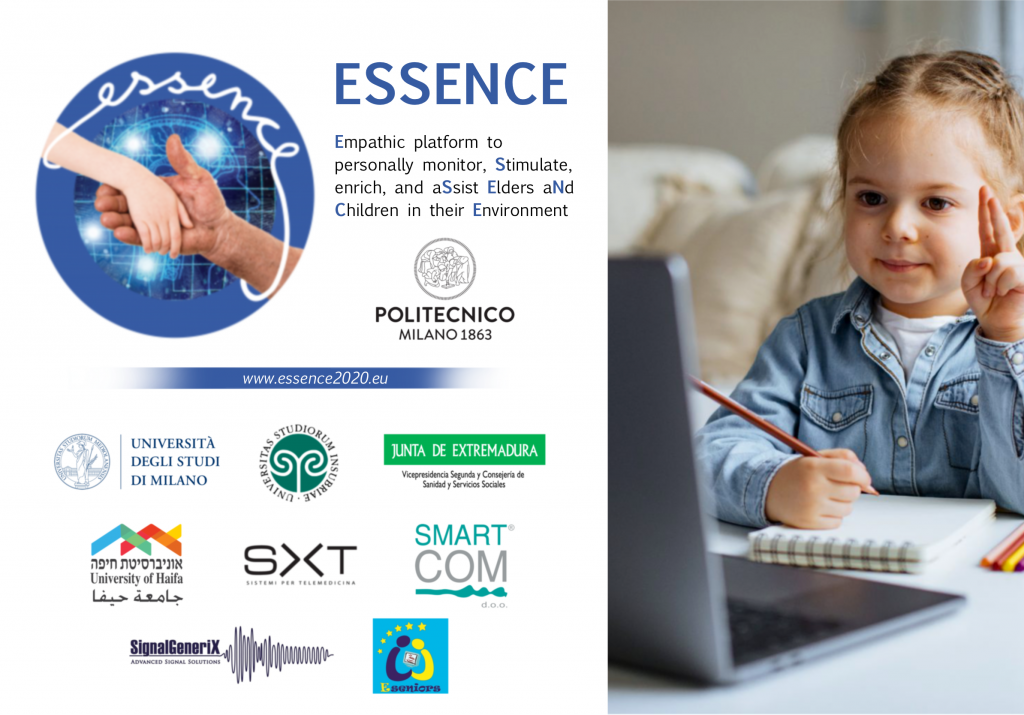 Digital Week – Friday 19th 5-6 PM
Here you can find the program for the ESSENCE workshop:
ESSENCE – Ecosistemi Digitali Domiciliari per Bambini ed Anziani
5.00-5.10 PM: Introduction to the workshop and to the ESSENCE project – Prof. Simona Ferrante
5.10-5.20 PM: ESSENCE Senior Ecosystem: how to stimulate monitor and connect seniors at home – Prof. Alberto Borghese
5.20-5.30 PM: ESSENCE Child Ecosystem: Technology at the service of learning – Prof. Simona Ferrante
5.30-5.40 PM: Handwriting: a smart ink pen for transparent monitoring – Francesca Lunardini, PhD
5.40-6.00 PM: Q&A
Click here for more details.
---

Postdoctoral Associate in Biomedical Sciences
FundeSalud (Government of Extremadura) is offering a postdoctoral position to work in the Public Healthcare System in Extremadura, Spain. Position is funded for 18 months (51,000 EUR gross salary) with a potential extension if funding is obtained for a final stabilization. Applicants should find a mentor in the Healthcare System and submit a project proposal together with their CV.
DEADLINE: March 31st, 2021
For more details, click here.
---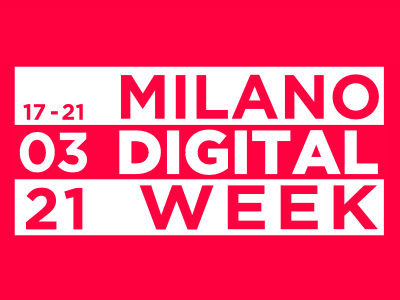 ESSENCE at Milano Digital Week 2021
ESSENCE will be presented at Milano Digital Week on Friday, 19th March 2021, at 17:00 (GMT+1).
The event will be held on Zoom. Click here for more information.
Stay tuned!
---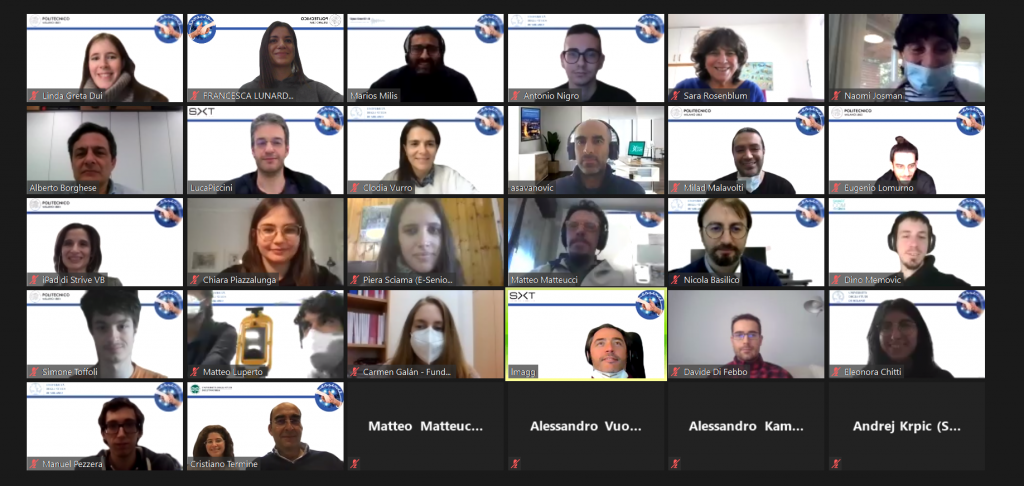 February 2021 PSC meeting
The Project Steering Committee ended with lots of ideas and work to do for the next months.
Here is (part of) our beautiful team.
We are looking forward to see Essence alive!
---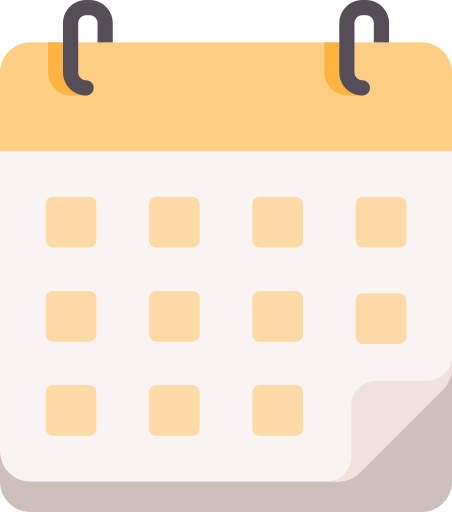 Save the date
The next Project Steering Committee will take place on February 11th and 12th, online.
---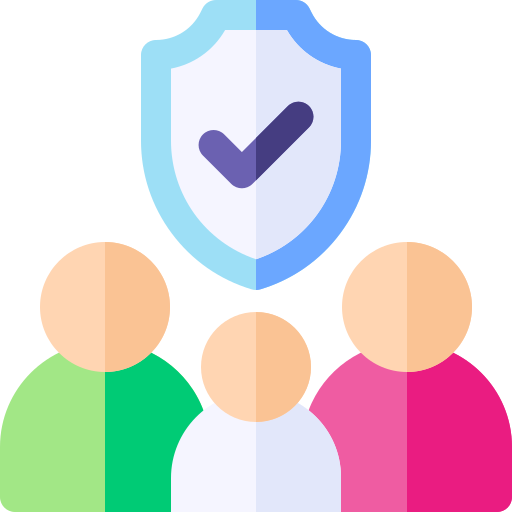 Ethical Advisory Board
On December 14th 2020 ESSENCE Ethical Advisory Board (EAB) was set up, and will be lead by professor Stefano Bonometti.
During the development of the project, the Consortium will fully respect and promote the values of freedom, autonomy, integrity and dignity of the person, social solidarity and justice, including fairness of access. The Ethical Advisory Board (EAB) is appointed by the consortium in order to monitor the conformity of the project to the ethical standards, analysing all the ethical issues of the project: data protection, privacy, ethical submission, gender issues, communication. Indeed, all the research activities involving ethical issues will be monitored by the EAB.
---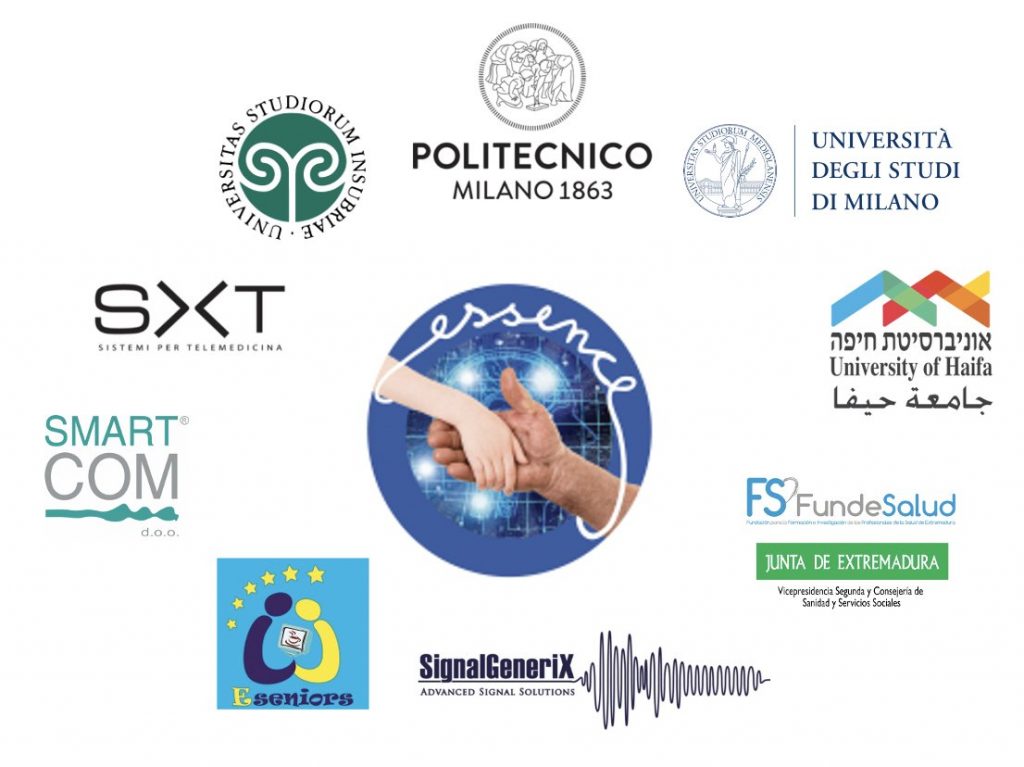 ESSENCE is starting
On November 9th and 10th 2020 Essence has kicked-off.
Nine partners from from Italy, Spain, France, Cyprus, Slovenia and Israel will cooperate to transform Covid-19 into an opportunity to help those who suffer more in lockdown: elderlies and children.
Under the guide of professor Simona Ferrante, the roadmap towards ESSENCE goals is drawn.
---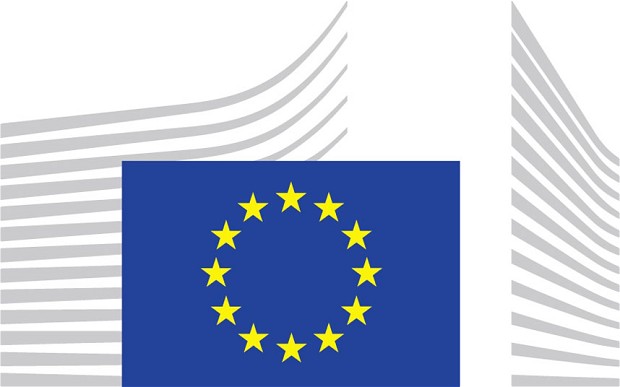 Welcome to ESSENCE
Thirteen projects which have digital tools and Artificial Intelligence at the heart of their innovative approaches will deliver new solutions to protect healthcare workers, quickly detect and prevent the spread of COVID-19, and improve intensive care – all to contribute to the fight against the COVID-19 pandemic.
This is the European Commission welcome to the projects which will leverage innovation to defeat Covid-19. ESSENCE is proudly one of them. Discover the others here.
Contacts or follows us on:

E-mail: essence2020@polimi.it
Phone: +39 0223999004